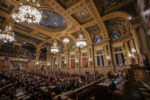 Local lawmakers are reacting to the new budget plan unveiled by Governor Tom Wolf for the 2020-21 fiscal year.
Republican State Senator Scott Hutchinson expressed concern about spending $800 million more than what was approved last year.
"Although we've been able to constrain state spending the last several years, and revenue growth has also been healthy, the Governor announced today that he is on track to spend $800 million more than we approved last June," said Senator Hutchinson.  "I am concerned about this continual cycle of supplemental spending.  And, I am very wary of his request for an additional $5 billion plus in more borrowing.  We have a lot of work to do as we work through the upcoming months of the budget scrutiny.
Republican State Representative Aaron Bernstine accuses Wolf of "mortgaging the paychecks of our children and grandchildren with his excessive overspending and borrowing agenda".
Republican State Senator Joe Pittman appreciated the governor's proposed investment in the state system of higher education, however he also said he is worried about continued talk of a natural gas tax.
"The very discussion of these tax policies is chasing away investment and I'm afraid just even the talk of this is going to chase away our coal and natural gas produces," Pittman said.
Following her first budget presentation as a state representative, Republican Marci Mustello says she is looking forward to working with the governor's team and her colleagues to come to a final agreement.
"The governor's budget address represents a starting point. I look forward to a deeper examination of the details of his proposal and work closely with my House colleagues to develop a budget that works for the people of Pennsylvania," Mustello said.
The post Local Leaders Offer Reaction To Proposed Budget appeared first on ButlerRadio.com – Butler, PA.