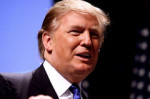 The United States Senate will likely deliver their verdict in the impeachment trial of President Donald Trump later today.
Democratic Senator Bob Casey from Pennsylvania has announced that he plans to vote guilty on both articles of impeachment presented by Democratic Managers from the House of Representatives.
Republican Senator Pat Toomey from Pennsylvania has not yet officially announced how he plans to vote today. However he did choose to vote with the Republican majority last week to not allow additional witnesses, documents, or testimony in the trial.
The post Party Line Impeachment Vote Expected From PA Senators appeared first on ButlerRadio.com – Butler, PA.