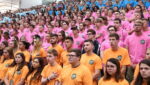 A new scholarship from the state could help students pay for college.
Governor Tom Wolf announced that he is proposing the Nellie Bly Scholarship, named for the trailblazing journalist who attended an early version of IUP.
Students have to attend a state university, like Slippery Rock, to be eligible.
"We still see too many of our young people forced to drop out of college or forced to begin their lives under a mountain of debt," Wolf said. "That's why the Nellie Bly Scholarship will pay for what other financial aid does not cover, so they can spend more time contributing to our Commonwealth, and less time paying off debts."
One of the other eligibility rules is that students have to commit to living in Pennsylvania post-graduation for the same number of years they received the scholarship.
In order to pay for the scholarship, Wolf is proposing to remove the over $200 million annual subsidy from the Pennsylvania Horse Development Trust. That has caused concerned among those in the state's horse racing industry.
In a press release, the Pennsylvania Equine Coalition criticized the proposal.
"If approved by the legislature, this raid would result in the end of horseracing in Pennsylvania by eviscerating the primary funding source for the purses and breeder incentives that serve as the lifeblood of the industry," said Pete Peterson, Executive Director of the Pennsylvania Equine Coalition, an organization representing the six Thoroughbred and Standardbred horsemen and breeder associations in the state.
"This scheme would destroy an industry that provides a $1.6 billion economic impact and supports an estimated 16,000 to 23,000 jobs in the agriculture, manufacturing, construction, retail and hospitality industries here in Pennsylvania."
The post New Scholarship Proposed For State Schools appeared first on ButlerRadio.com – Butler, PA.